Don't keep Heaven waiting! Start receiving your inspiring Prescriptions from Heaven—always free!
Give a Boost to Your Healing and Awakening
Prescriptions from Heaven are daily reminders that there is a power living inside you—Heavenly power—able to transform your challenges into health, happiness and prosperity.
Spirit gives us subtle signs every day that we are not alone in our journeys. Prescriptions from Heaven help us tune in those signs.
Each weekday morning, Heaven will send you a digital postcard with a brief personalized inspirational message to start your day right. And they're always free!
WATCH THE SHORT VIDEO: The Inspiration Behind the Prescriptions
Get Your Daily Dose
Don't make Heaven wait! Join thousands and receive your inspiring Prescriptions from Heaven. They are always free!
Prescriptions from Heaven is presented by bestselling author and transformational guide Misa Hopkins as an ongoing part of her 30+ years of work at the intersection of self-healing and spirituality. Her experiences healing herself from the onset of cancer and MS—and helping others heal—led her to write The Root of All Healing: 7 Steps to Healing Anything and share that wisdom on NBC, ABC, Fox and other media. Her Sacred Feminine Awakening book series reveals the synergistic teachings of Mary Magdalene and Native Grandmothers. She facilitates deeper exploration of that ancient wisdom in her popular SHE Rising Academy.
Through Misa's loving support, people around the world are discovering the emotional root causes of their illnesses, realizing their natural abilities to heal, and creating their own miracles as they embrace the Divinity within themselves.
Misa's husband, author and multimedia artist/producer Jeff Burger, regularly contributes to Prescriptions from Heaven—all while bringing a wry sense of humor to the party. He takes delight in seeing the Divine in the ordinary. Jeff has a particular sense of wonder when experiencing the synchronicities that abound in life.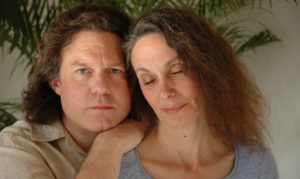 Don't Keep Heaven Waiting - Get Your Daily Dose!
Join thousands and receive your inspiring Prescriptions from Heaven—always free!
Do You Love Your Prescriptions from Heaven? Please Donate!
Your daily Prescriptions from Heaven will always come free of charge. If they bring you regular inspiration and joy, please consider supporting the angels hard at work behind the scenes every day. Don't forget to leave us a note below, too!
Your donations go to New Dream Foundation, Misa's non-profit organization that presents SacredFeminineAwakening.com.