Fill the emptiness and reclaim your excitement for life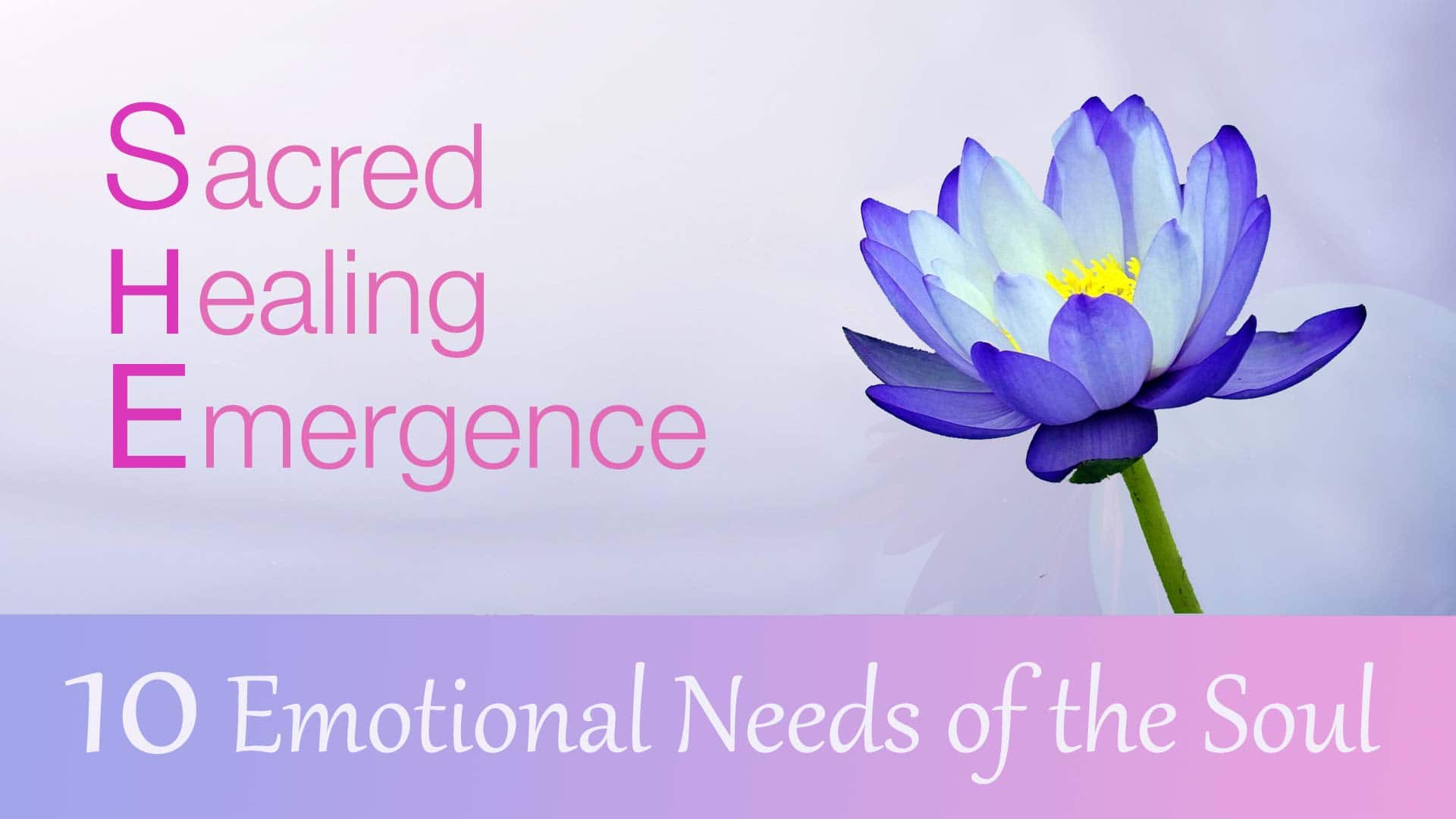 10-Week Master Class with Misa in Fulfilling Your Soul's Aspirations
Reserve Your Spot for This Limited-Time Opportunity!
Space in the live group mentoring and retreat is limited to a small dedicated group of women!
Do you feel like something is missing but you can't quite put your finger on it?
Would you like to feel completely loved, accepted, acknowledged and honored?
Would you like to know where you belong and fit in?
Would you like to experience deeply, knowing you matter and are wanted in this world?
Would you like to feel truly worthy for what you came here to do?
As a sacred woman, you've committed to living in love and service, but something keeps getting in your way. Something is missing.
If everything your soul needed happened in your life, you would always feel completely alive. But that isn't what happens. Whenever there are unmet needs, there is an indescribable emptiness.
The challenge lies in recognizing and filling what you don't even know is missing.
In the SHE: 10 Emotional Needs of the Soul—Live master class, we walk through the developmental stages of the soul from pre-birth to after death.
We identify and meet the needs the soul has to experience—from pre-birth to after death—in order to be fully alive, here on earth.
"Infinite gratitude to you, Misa. This program has been such a powerful experience for me, I simply do not have the words. I have shifted and healed so much, and my Spirit feels lighter. Much love to all of you…truly, I feel like a completely different person. Thank you so much for this course. It has changed my life and I am so full of gratitude. "
—T
Discover Powerful Ways to Fulfill the Unmet Needs of Your Soul

Finally Feel Like You Truly Belong
Dissolve feelings of abandonment and not-belonging as you discover what it feels like to be wanted
Learn how to really receive life's gifts as you heal the pain of rejection
Let go of feeling disconnected or lost as you rekindle your sense of wonder and excitement for life
Experience the Awesome Feeling of Being Valued and Accepted
Heal painful family patterns and enjoy feeling valued for who you are.
Discover the value of talents you were born with, so you never feel used or taken for granted again.
Experience the blessings of your attempts and accomplishments, so you can feel fully empowered for what you are here to do
Awaken Your Trust in Life as You Feel Fully Understood
Let go of feeling misunderstood and disrespected as you are heard, seen, accepted for who you really are
See your options and the ways you are an important contributor to life as you deepen into self-appreciation
Feel the pleasure of what it's like to feel appropriate pride for your accomplishments
Discover Your Soul's Aspirations and Make Your Unique Difference
Let go of resentment, jealousy and envy, as you recognize your contributions to others—both subtle and overt
Enter into the grace that lets go of struggles and worries so you are free to experience joy
Honor the legacy you are here to leave behind, and recognize how you've been creating that contribution since you were born
What Are Your Soul's 10 Emotional Needs?

1) Feeling Wanted (Pre-womb and Womb)
If you don't feel wanted, you tend to feel like you don't really belong, and you don't fit in. You wonder why anyone would want you—including potential partners, children, employers or clients. When fulfilled, you know you belong and are wanted.
2) Feeling Received (at Birth)
If you don't feel received, you feel overwhelmed by life, stress easily and fear rejection. You feel alone, control things with a vice grip and give away too much. You have difficulty receiving money, things, people, and happiness. When fulfilled, you feel part of a family here on Earth that can count on each other to create with joy.
3) Held in Wonder (Ages 0-3)
When you haven't enjoyed curiosity and wonder, you feel lost. You lean toward depression and addictions. You have trouble finding your purpose or recognizing what makes you unique. You don't know what you want or know what you have to contribute to the world. When fulfilled, you delight in your unique explorations and perceptions.
4) Being Appreciated (Ages 4-7)
If you didn't feel appreciated, you have low self-esteem. You are prone to being bullied, teased, feeling used, taken for granted or taken advantage of. You are afraid your accomplishments and especially your attempts will be ridiculed. You do not feel respected. When fulfilled, you enjoy and honor the power of your attempts and accomplishments.
5) Feeling Needed (Ages 8-13)
When you do not feel needed you tend to rebel against any expectations of you, while also trying to prove how valuable you are. You tend to feel not good enough, betrayed, or as though everyone tries to take a piece of you. When fulfilled, you know your talents play a significant role in making your community stronger.
6) Being Accepted (Ages 14-19)
When you don't feel accepted, you don't feel like you get to be who you are. You feel forced into situations because you don't feel like you have choices. Like not feeling appreciated or needed, you tend to be rebellious and in a constant state of fight or flight. You have difficulty making clear decisions for yourself. When accepted, you know the significance of your unique ideas and feelings, and easily make good choices.
7) Being Acknowledged (Ages 20-40)
When you don't feel acknowledged you try to hide your inadequacies because you need to be seen at your best. You are more inclined to lie or steal in order to get acknowledgment. You have difficulty finding the right mentors or seeing the abilities others see in you. When you can acknowledge yourself, you can finally feel like you can make a significant difference being exactly who you are.
8) Feeling Recognized (Ages 41-90+)
When you don't feel recognized for what you have accomplished, you feel resentful and envious. You unconsciously undermine your own work. You have many regrets and doubt you will ever leave your legacy. You have a difficult time seeing the true nature of your contributions. When you feel recognized, you know you are leaving your legacy for future generations.
9) Feeling Released (at Transition)
When you don't know the joy of sweet releases, you struggle with death. You feel hopeless and you despair. You have a difficult time forgiving those who abused or harmed you. You feel guilt for the life you have led and have difficulty letting go of the past. When you know the energy of release, you joyfully glide into bliss and freedom.
10) Being Remembered (After Death)
When you cross over, you long to know your life had meaning. Without it, you can become a soul trapped between the worlds and lost. You might even make life difficult for the living. When you know your life has meaning, you do not fear death and you get to feel the elation of your contributions, both now and then.
Satisfy Your Soul's 10 Emotional Needs and Reclaim Fulfillment and Excitement for Life
In this 10-week master class you receive:

10 instructional video modules explaining each of the emotional developmental stages with its challenges and potential for your fulfillment
10 audio Holding meditations taking you into each one of the emotional needs, fulfilling it in Divine grace and love
10 worksheets with exercises for deep emotional healing in each stage
Private Facebook Group for ongoing support from the community, my team and me
Direct email support from me to get immediate answers so you can maintain your healing progress*
3 months of live group mentoring video calls directly with me where you can ask questions and share your experiences for deeper fulfillment*
BONUS: 2-day SHE 10 Emotions virtual retreat to take you further into a sacred state for receiving healing and awakening your soul*
* Included only with Master Class Complete version (see below for details)

Get the Most from Your SHE Experience!

Live Mentoring Calls To Get to the Answers and Healing Support You Need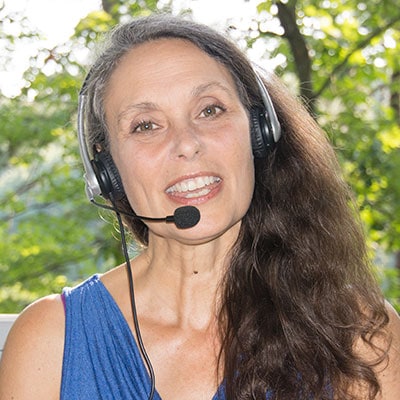 — INCLUDED IN MASTER CLASS COMPLETE PROGRAM —
Work directly with me through every stage in this 3-month package of interactive group mentoring calls in my Women of Power and Spirit Gold Circle.
These confidential twice-monthly sessions for women only are completely interactive Zoom calls (not just chat room). You can:
ask me questions as you walk through this step-by-step approach to your Feminine Empowerment
get personalized clarity for your visions and insights during the course exercises
see how to apply the lessons directly to your unique life challenges and purpose
grow in your own understanding through my coaching of other participants
bolster your commitment to completing this course that you've given yourself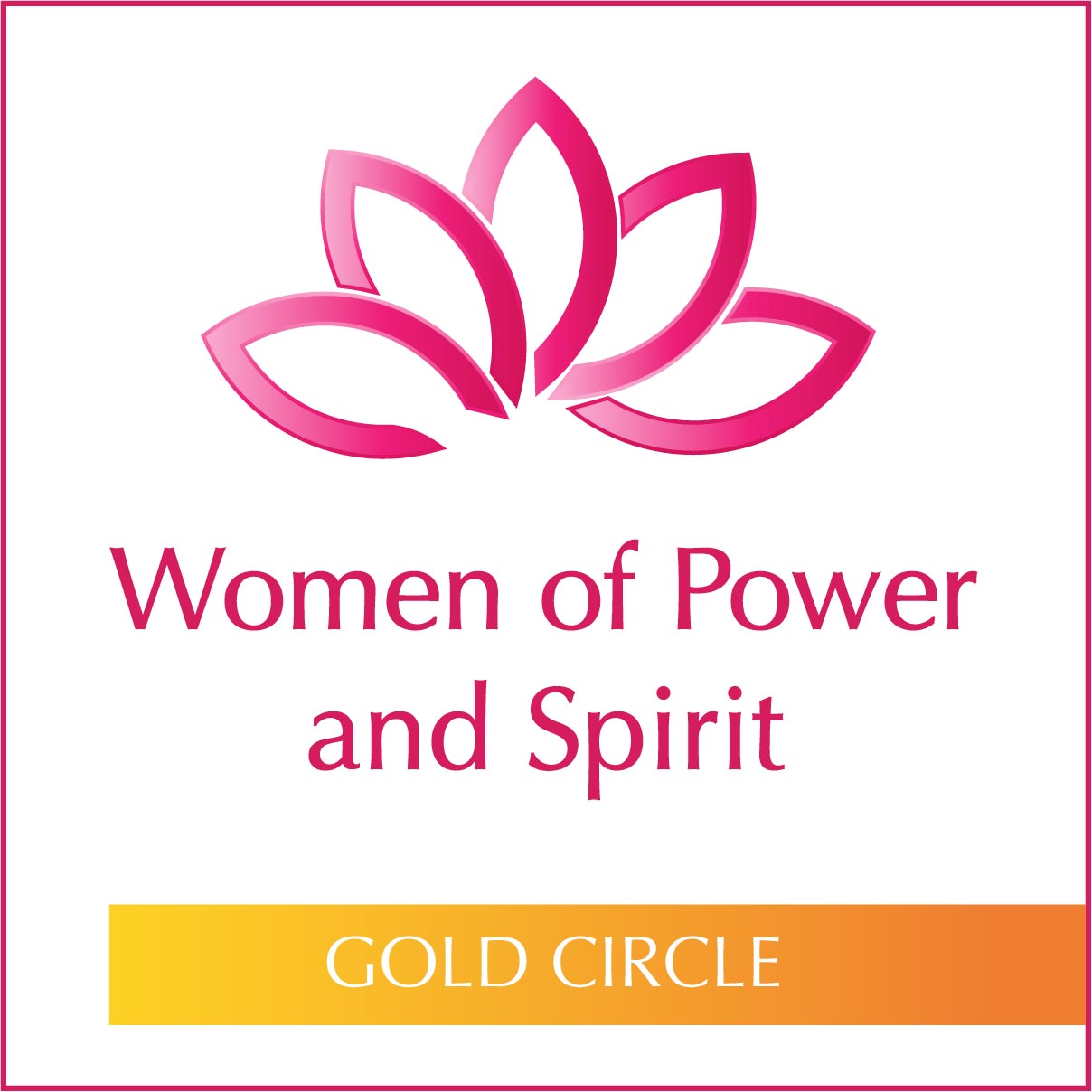 Women of Power and Spirit Gold Circle group mentoring calls are every other Saturday at 8:00 am Pacific Time / 11:00 am Eastern Time. They are at least 1 hour each—usually longer subject to my availability.
If you can't attend a call, I'll do my best to answer your emailed questions on the call and recordings are available.
Note: These group mentoring calls are a prerequisite for taking the SHE Personal Mastery and Leadership master class and receiving certification in the SHE Academy.
Space in the live group mentoring and retreat is limited to a small dedicated group of women!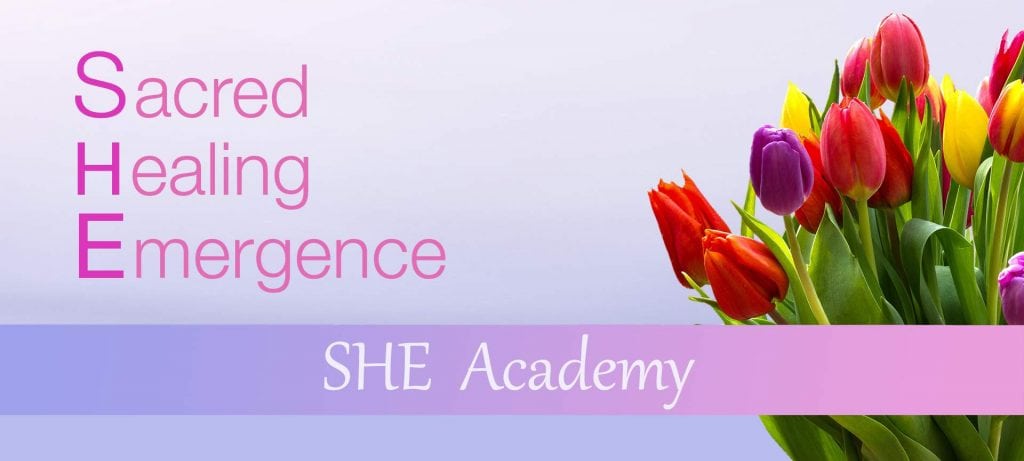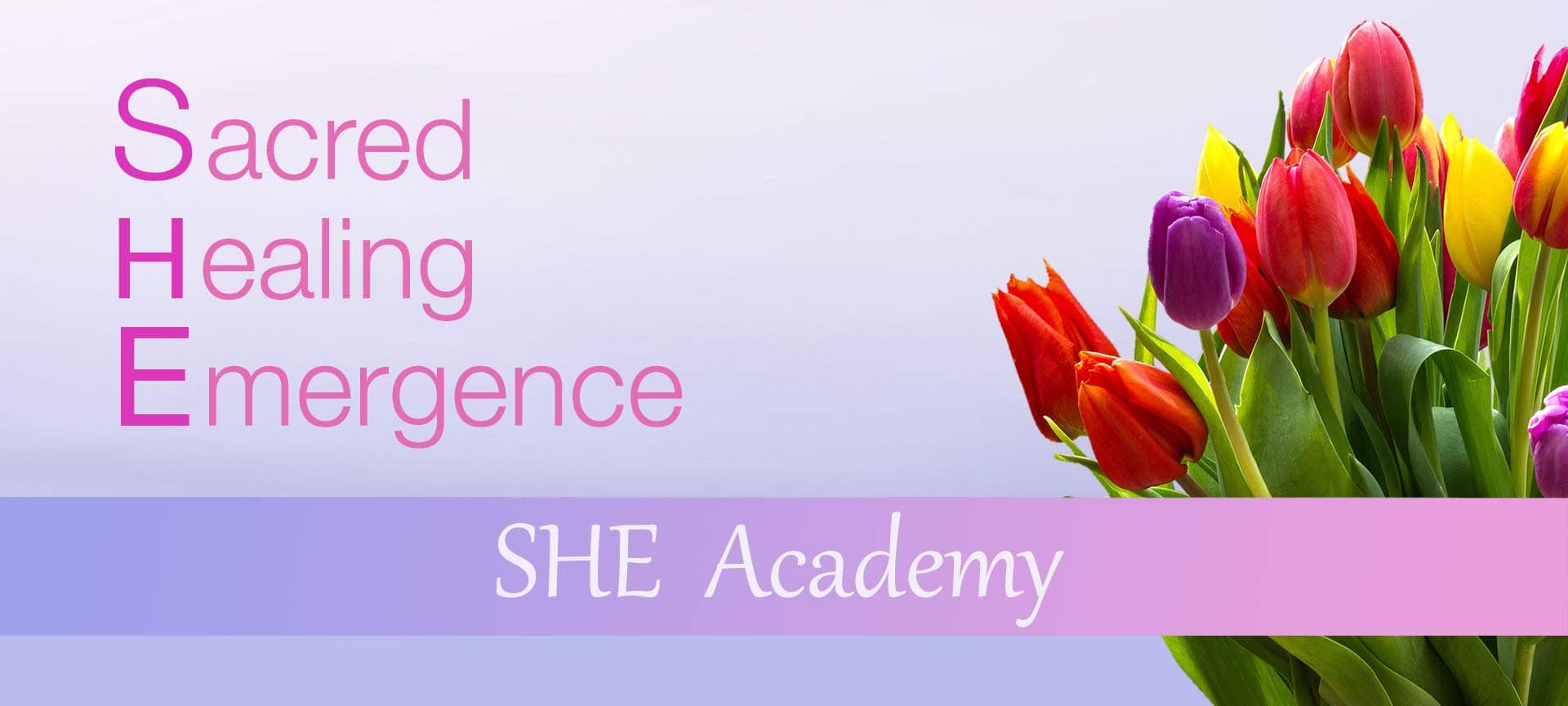 This master class is part of the SHE Academy—a unique online Feminine Empowerment program for women. Unleash your power for healing and awakening—so you can fulfill your destiny. Dive deep into ancient practices, based on the foundation of Holding, to discover the sacred wisdom that lives within you and will guide you for a lifetime.
The SHE Academy, complete with mentorship and retreats, shows you how to use Feminine Empowerment to create the life you were always meant to experience and enjoy.
Note: This master class and retreat are prerequisites for taking the SHE: Spiritual Leadership master class and receiving certification in the SHE Academy.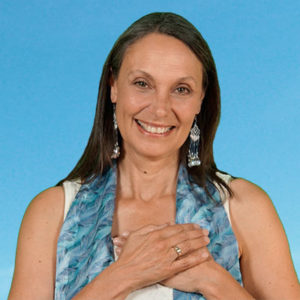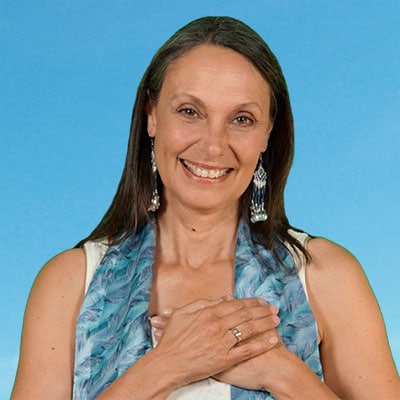 Misa Hopkins has been a pioneer in the field of Feminine Consciousness and self-healing for over 20 years. She is a 5-times best-selling author, including her Sacred Feminine Awakening series. Misa has made multiple television appearances and is featured in the documentary, The Spark.
Nearly 30 years ago, Misa sang a song to her dying mother, and the next day her mother left her death-bed.
When Misa contracted MS and later when she discovered she had cancer, she used what she had learned to heal herself. Since then, she has helped people all over the world cultivate their deep inner wisdom for their own healing and joyful expression in the world.
After Misa's powerful mystical initiations in both feminine and masculine sacred energies, she was entrusted with guardianship of 1,000+ year old practices—including the Holding meditation—for healing and awakening through yin energy.
Misa's popular SHE Academy helps women world-wide use feminine empowerment principles to heal, awaken, create fulfilling relationships and unleash their destinies.
"Misa's teachings and work have really transformed my life..."
—Crystal
"I had a great time with the program. I learned to connect with my inner child and experience feelings I normally buried. Misa was very gentle and very patient. Her meditations guided me through the different stages of childhood, which increased my understanding of what I was missing inside. This program is great if you're looking for help with healing parts of your childhood and with connecting with your inner child. Misa will guide you through each step of the way. You won't regret anything."
—Polina Tchernova
"What Misa gave me was life changing..."
—Nora
Space in the live online class and retreat is limited to a small dedicated group of women!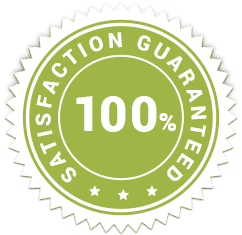 Money-Back Guarantee Guarantee for Your Peace of Mind
I've seen the power of these techniques. I have so much confidence in them, I'm willing to honor a guarantee through the full 10 weeks of your SHE program. If you are diligently using the techniques you learn and are not getting results, I'll refund the full amount. You deserve to have peace of mind when it comes to your healing, and I'm here to stand by you.
"I am most grateful to Misa and the Grandmothers for bringing to us this most profound of gifts! All the recordings and meditations in the program, with Misa's beautiful voice and delivered with so much loving-kindness, transmit deep, deep wisdom about our human journey. I have found in every each one of them a compass for my return home …"
—Celine, Vancouver B.C.
"Thank you for always giving me great advice and thank you for the Holding of the 10 needs of the Soul. It really helped me on my next step of my healing journey and brought some very valuable insight."
—Silke
Space in the live online class and retreat is limited to a small dedicated group of women!
When It's Time, Your Best Solution Arrives

A priceless opportunity for your life and soul to heal completely from lifetimes of hurt, wounds and unmet needs
Here's how it works:
During this loving and gentle 10-week experience, I will teach you how to use the ancient and proven practice of Holding your emotions.
I show you how to use the Holding meditation to help you release and repair trauma, memories, karma and scars from the 10 unmet emotional needs of your soul.
As the emotional scars heal, you naturally feel fulfilled as the needs are met. You then have the energy to thrive and fulfill your soul's destiny.
Knowing how to Hold deeply prepares you to meet your needs now and at any future moment in your soul's evolution.
"I was recently guided to "find" your work again and have been journeying with your Holding guided meditation. It is a most sacred and whole journey. I feel I am beginning to find my sacred feminine and birth my sacred and Divine I AM of Joy. I am most grateful to you Misa. Thank you."
—Joanna
"I have done the meditation The Holding for 2 weeks now, and I am feeling results in my body, a new sense of peace that stays within me for longer periods. Being overstressed for years and years it feels good to learn to rest within myself. I was deeply traumatized in my mothers womb and was afraid of being born, and grew up disconnected from mothercare and feeling safe, so these healings are of great value for me and feels indeed like a treasure, helping me heal. Thank you so much, I am so grateful."

—P.T.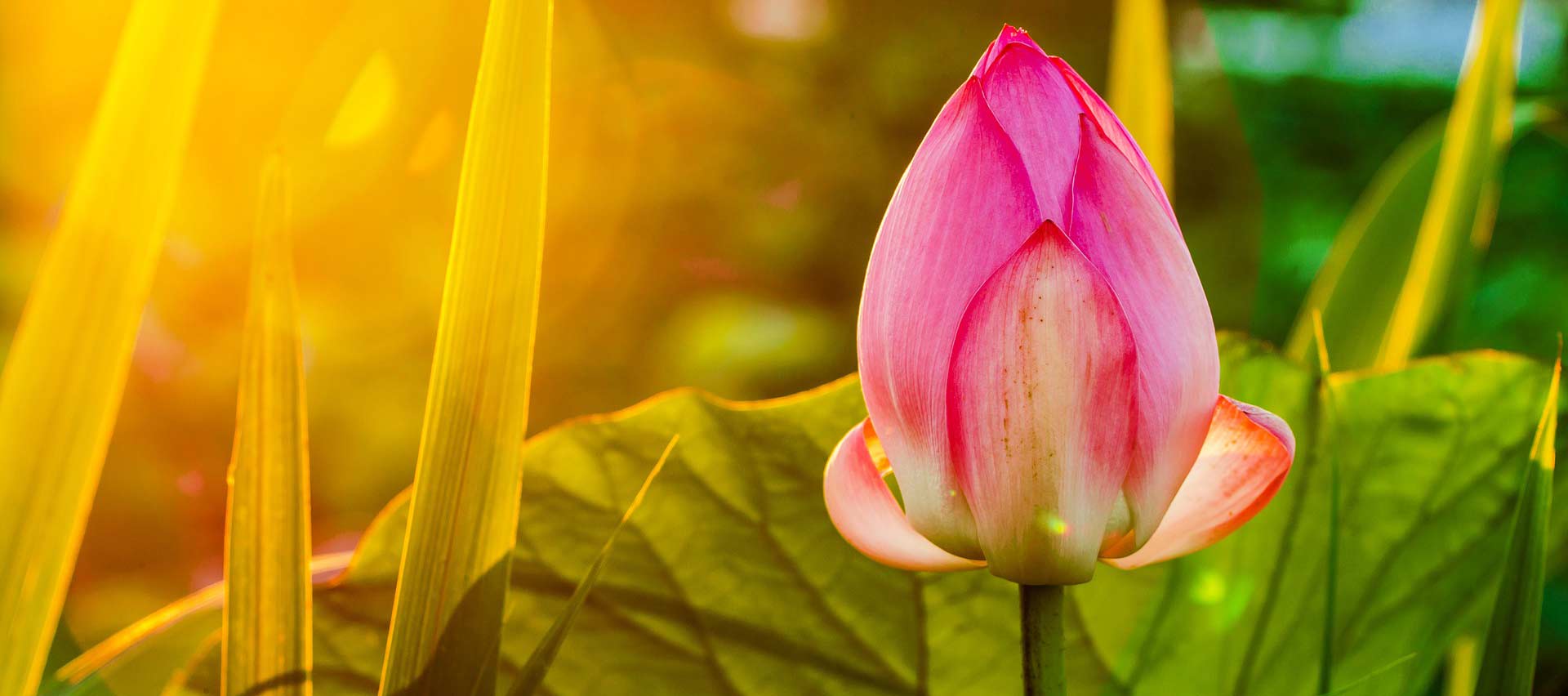 Using the Holding, people all over the world have experienced significant moments of transformation, such as:
3 New Career Opportunities for My Husband
One of my clients Held her husband's intention to have a more satisfying job, and in one week created three new career opportunities for him.
Saw the Cancer Cells Leave My Body
I used this same meditation to heal cancer cells I found in my body during meditation, and that awareness was then confirmed in a dream. Every day for over a month, I Held that part of my body and emotions as I was watched layers of present day resentments and past life memories emerge and dissolve, until eventually another dream confirmed that the cancer was gone.
Depression Left and Never Came Back
A friend and colleague of mine used The Holding to heal her chronic, genetic depression. She had been depressed for 15 years. She did the Holding meditation every day, and one day she said, "I watched the dark cloud leave and it has never come back." That was over three years ago.
You deserve to feel fully alive and reclaim your excitement for life
It is your birthright to enjoy your life, your loved ones and fulfill your purpose. I believe in you and your ability to create the life you want. I'm so excited to get going with you on this journey of healing and fulfillment.
"I had been aware of the holding meditation that Misa shares for quite a few years – and had used it for periods of time as I've worked with different personal challenges. When I signed up for the class, I did so because I wanted to have a weekly experience of meditation with Misa, but I wasn't that sure about how much more was available to know. Well, I can give testimony to the fact that there is a wealth of knowledge there that is vast – bigger than I can imagine. Misa took me ever deeper into that wealth over the course of 10 weeks. Her gentle, loving style is so inspirational — I want to be more like her and live from that place of joy and love that I sense in her all the time. She is such a supportive and talented teacher who really knows the material and is so capable of listening and finding the learning and answers that are needed at the moment. You won't be disappointed if you decide to take this course."
—A.K.
"I have been thinking for awhile to send you this email, to let you know how grateful I am for the course. Although not too much is going on that is visible outside, on the inside 'I've been moving mountains' The first few weeks had a profound healing effect on healing my childhood traumas. I feel like something deep has shifted.
Just before I managed to listen to the final week 10 "Being Remembered" recording I went on pre-arranged visit to my family. I found myself having totally different, more positive feelings towards my parents and other family members. I think perhaps i've been expecting something they could never give me despite how much they tried, and I could never appreciate their efforts because they didn't know how to meet my exact emotional needs. This time, I actually felt all the love and care they've given me throughout my whole life. I was able to be less judgmental and help them. When I got home and I listened to the final recording and felt even deeper waves of healing and release. On top of that my relationship with my partner dramatically changed for better, as well as with my son.
I also had a profound realization—I 'understood' on a deeper more profound way what divine feminine and masculine means, at least in terms of something that feels relevant for me right now, and I've been feeling lots of healing and aha moments. Thank you very much once again for everything, I appreciate all the holding and healing you do, thank you for being who you are. Thank you grandmothers."
—K, U.K.
"Misa saved my life..."
—Ariann Thomas, bestselling author, Ancestral Lineage Clearing
SPECIAL BONUS: SHE 10 Emotional Needs of the Soul Virtual Retreat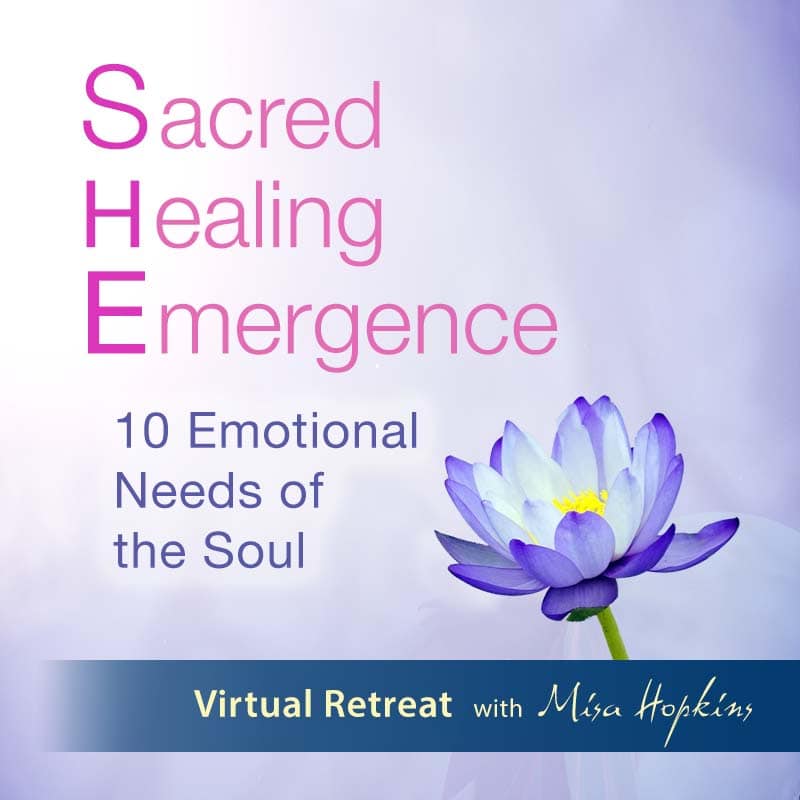 — INCLUDED IN MASTER CLASS COMPLETE PROGRAM —
Discover how to gently, lovingly, release the beliefs you learned as a child—and open yourself up to your soul's true design—in this 2-day, women-only journeying retreat.
awaken your dreams and visions of what you most want – what your soul and the Divine sent you here to experience
transform the habits and pain of your past  into the strength of your future
let go of a reality in which you were a woman of your circumstances
unleash the power of being a vibrant "Woman of Your Choosing"
As you awaken your true, raw power as a woman, you enter into a world where synchronicities—like stepping into a steadily flowing river—carry you into what is next and next and next for you—in ease and grace.
Misa journeys you through the 4 Prescriptions for Emotional Healing so you can be deeply held and nurtured, and enter into states of awakened consciousness.
This 2-day virtual retreat—12 hours total—is content-rich with exercises, journeys and ceremony to take you into a sacred state for receiving healing and experiencing states of awakening.
BONUS: Bring a friend for free!
As a participant in SHE 10 Emotional Needs of the Soul Master Class Complete, you also receive a bonus guest ticket (worth $1,000) to invite a friend or loved one to participate for free.
This is a great way to create accountability and mutual support while helping someone you care about.
Note: This retreat was formerly called "SHE: Reborn into the Magic"
Note: This retreat is a prerequisite for taking the SHE: Personal Mastery andLeadership master class and receiving certification in the SHE Academy.
SPECIAL BONUS: 4 Prescriptions for Emotional Healing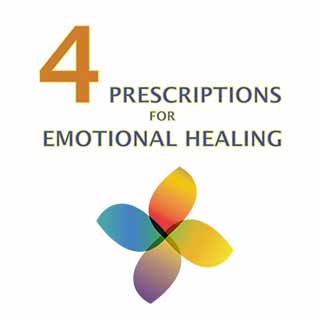 — INCLUDED IN MASTER CLASS COMPLETE PROGRAM —
Register now for the Master Class Complete program and receive this extra bonus session revealing The 4 Prescriptions for Emotional Healing.
In this special recorded video session, Misa shows you how to:
break the cycle of self-abuse and self-sabotage
get unstuck from habitual thoughts and feelings
align with Divine will for greater ease in healing
experience a healed, joyful, fulfilled life
and more!
PLUS... Get This Additional Fast Action Bonus When You Register Now!
3 Most Common Healing Questions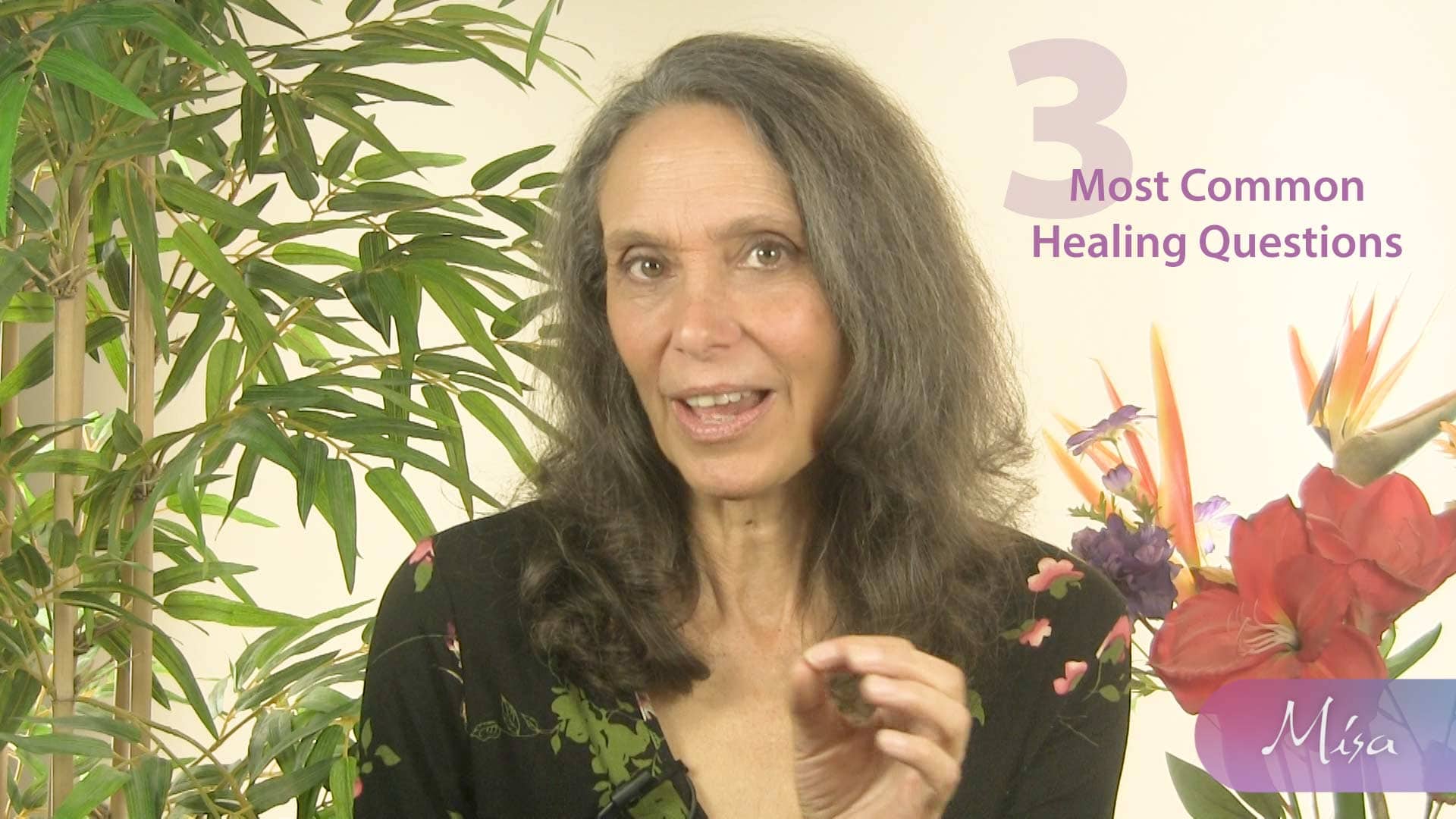 Register now and receive this extra bonus session of 3 Most Common Healing Questions.
Hundreds of people responded to a survey I did in which I asked their most important healing questions. I discovered very common concerns. In this bonus video session, I share my insights into those questions that challenge us the most when it comes to our healing.
Get answers to these pressing questions so you can let go of worry and experience the kind of changes you want to see:
1) When I've tried everything to heal and nothing's happening, what is missing?
2) Are some illnesses and conditions permanent?
3) How can I stop being so afraid that I will never be well and start truly knowing that healing can happen?
Remember, you receive this bonus when you get the master class now (either version). It is only available for a limited time.
Yes! I'm ready to feel fully alive and reclaim my excitement for life!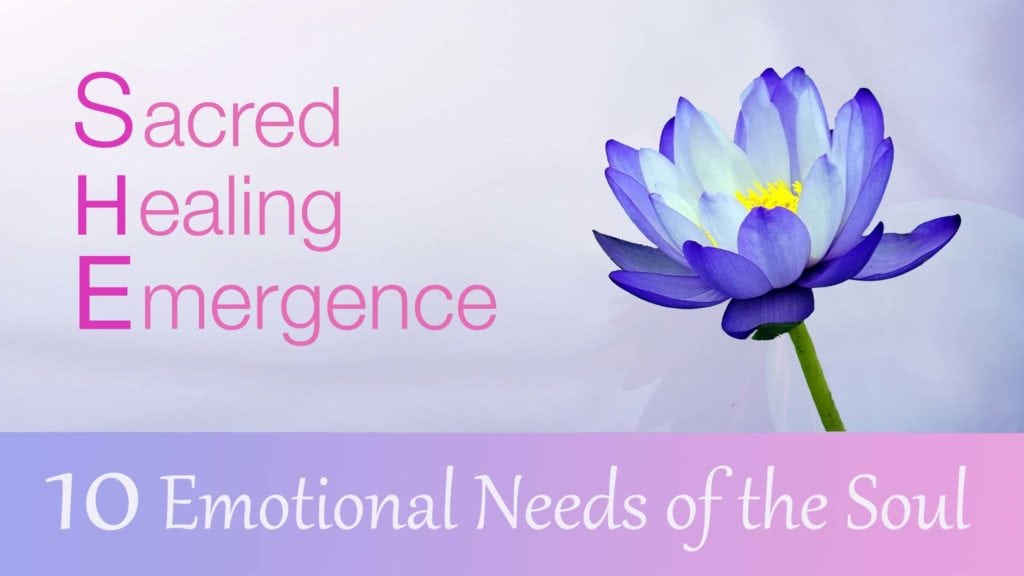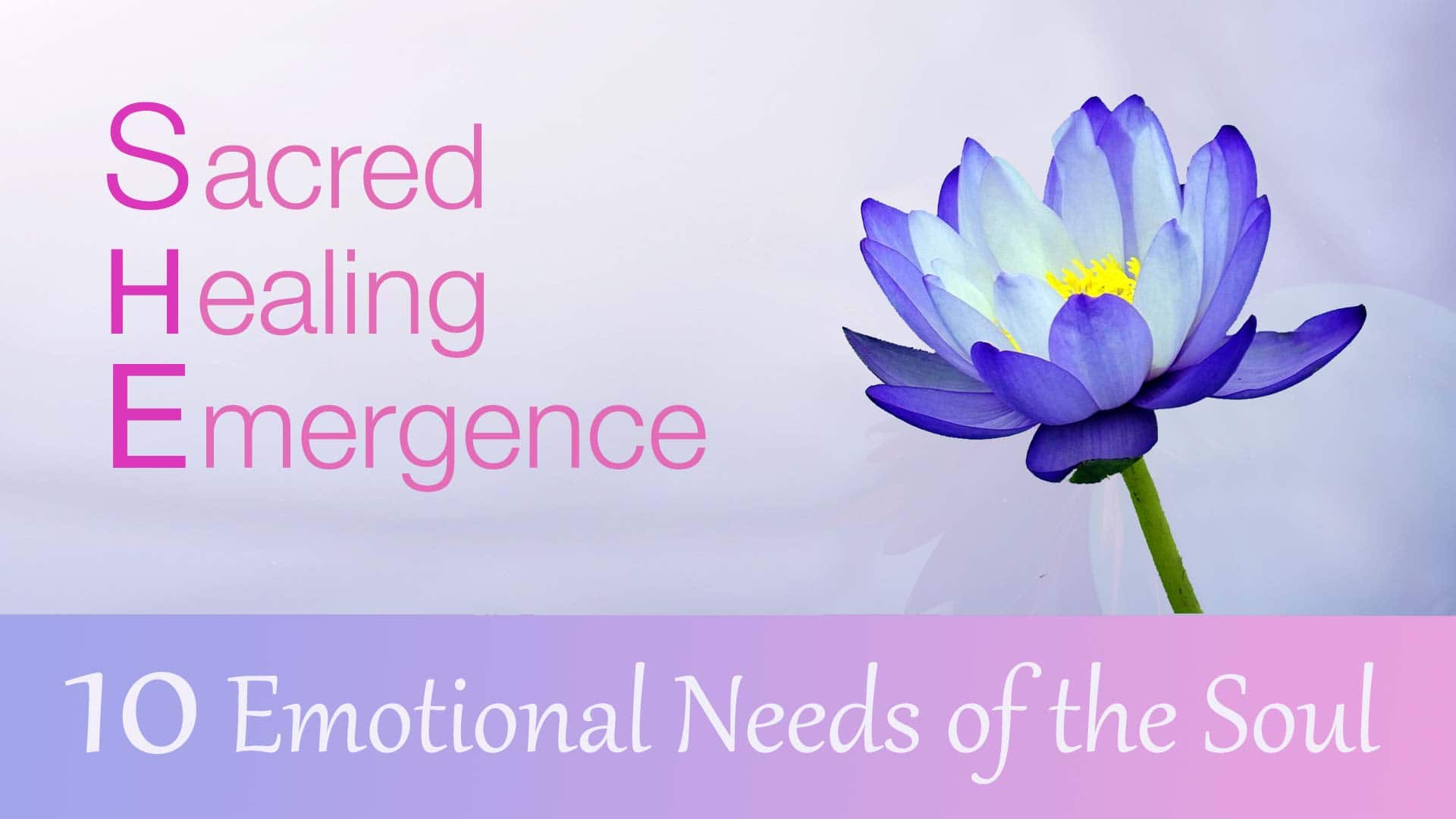 10-week video master class: $600 value
3-months group mentoring calls: $600 value
1 bonus ticket to SHE retreat: $1000 value
1 bonus guest ticket to SHE retreat: $1000 value
Total Package Value: $3,200
Master Class

10-week video master class

Private Facebook Group support
FAST ACTION BONUS: 4 Prescriptions to Emotional Healing video session
FAST ACTION BONUS: 3 Most Common Healing Questions video session
Value: $600
Tuition today just:
$497
Great for self-motivated learning
Master Class Complete
10-week video master class
3-months live group mentoring and recordings in Women of Power and Spirit Gold Circle
Private Facebook Group support
Direct email support with Misa
SPECIAL BONUS: 1 ticket to live online 2-day SHE 10 Emotions journeying retreat
EXTRA BONUS: 1 retreat guest ticket
FAST ACTION BONUS: 4 Prescriptions to Emotional Healing video session
FAST ACTION BONUS: 3 Most Common Healing Questions video session
Value: $3200
Tuition today just
$1497
Best experience for self-mastery. Required for SHE Personal Mastery and Leadership and certification.
(Women only)
Questions before you buy? Contact us here.
If you would like to request a complimentary Sacred Healing Strategy Session call with me before purchasing, please apply here.
I can't wait to support you further in your sacred journey,

P.S. I'm looking for a few committed participants, so that you get plenty of the support you need. Register now for the Live class or retreat before spaces fill up. A life of health, fulfillment, and aliveness is just waiting for you.

"I have taken many classes/workshops in the past 15 years or so and some were from very amazing and famous teachers. I have never before, however, experienced such dramatic shifts in women as when I worked with this group of women that Misa facilitated for a few months, talking on the phone. A small group of people CAN create miraculous, incredible shifts I have never experienced before in such a short time!"
—Morgine Jurdan
Frequently Asked Questions