Get Your Free Guided Meditation MP3 Download:
Breathing Your Way to Physical Freedom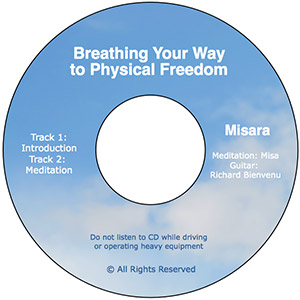 This beautiful meditation came to Misa when she was experiencing chronic pain. The gentle breathing exercise helps you easily focus and open your energy, so that you can enter a restful state. In this relaxed state, you slow down enough to actually allow your spiritual gifts to emerge and begin working for you.
In the same way it helped Misa, regular use of this meditation can help you even find freedom from physical or emotional blocks to ease in your life. (This guided meditation is also good for asthma or other conditions in which your breathing may be challenged.)
While the Breathing Your Way to Physical Freedom CD sells for $15.99… you can download the MP3 here for free!
Misa's Voice Is a Beacon In the Darkness
I wanted to tune in and thank you for the Breathing CD. It has served me well for over a year. Your voice is a beacon that leads through the darkness.
A.D
Montana
Relax and Breathe Easier
I have struggled with asthma since I was a child, and recently committed to clearing it from my body. The CD really helps me get into a meditative state where I can relax and breathe easier. This brings more oxygen to my entire body, leaving me feeling grounded and energized.
Kelly Cole
music teacher, Sedona, AZ