Meet Misa Hopkins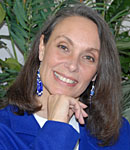 Misa Hopkins has healed her own incurable condition and chronic illness. In her process of healing, and as an astute observer of others' healing journeys, she discovered that the process itself is a path to spiritual awakening. This is the message she shares today.
Misa grew up in Washington state and graduated with a degree in Special Education, with an emphasis in Behavioral Science. Teaching, singing and acting were her great loves, so she taught special needs children during the day, and at night you could find her on stage, frequently the lead in a local musical.
After several years, she made a career change to become involved with public relations and marketing for non-profit organizations, eventually opening her own consulting firm offering communications and organizational development services to professional businesses and Fortune 500 companies.
Known for her creative programs that bring communities together to solve problems, she designed and implemented a highly effective, nationally recognized program for reducing recidivism for women in prison.
The Journey From Business Consulting to Mysticism
Her life took a dramatic turn when her mother left her death bed after Misa sang an unknown Native chant to her that seemed to speak to her mother's own little-understood Native heritage. Though Misa loved her thriving consulting practice, when her mother finally did cross to the other side, Misa packed up all her belongings and went on a quest in order to devote her life to understanding her sound healing gift and her Native blood.
Ten years later, after living a quiet meditative life, studying with Native elders, learning from enlightened masters of various backgrounds, offering classes and healings, and attending and learning ceremonies, she met and married her husband. With his love and support, she created the New Dream Foundation, dedicated to healing and awakening through the Sacred Feminine. She also wrote her first bestselling book, "The Root of All Healing: 7 Steps to Healing Anything."
The book is based upon her own experiences and the observations of people she met throughout her life that were actually  healing from life-threatening and "incurable" conditions.
Misa is now the author of 5 bestselling books—including her Sacred Feminine Awakening series—and has made numerous TV and radio appearances sharing her personal story of sexual abuse, healing, and thriving.
Creating Miracles
With the help of a skilled doctor, a therapist and numerous alternative healers, Misa healed from a condition in which she was producing as much testosterone as a male in puberty. On her own, and under the observation of a doctor, she healed a collapsed fallopian tube with energy alone, and most recently she use sound medicine to heal from the onset of MS.
With each condition, Misa had to bring loving compassion to the root emotional causes in order for true and lasting healing to occur.
Now, using her background as an educator and healer, along with her intuitive abilities, she provides practical insights to help people unlock the spiritual mystery of self-healing. Through her loving support, people around the world are discovering the root causes of their illnesses, owning their natural abilities to heal, and creating their own miracles, as they embrace the Divinity within themselves.
Currently, Misa is the founder and facilitator of the SHE (Sacred Healing Emergence) Academy where women discover their own innate abilities to heal and manifest through ancient practices in feminine consciousness.
Enjoying Life!
Misa can frequently be found in a beautiful outdoor setting with her husband Jeff, sipping a robust red wine or indulging in something chocolate.